Lock up the liquor, the silver, and the fine china, because Plunderbund is going to totally crash the ODP prom tomorrow night!
Despite the fact that Ohio went for Bob Taft, George Bush (twice), and the Party didn't win its first non-judicial Statewide election since 1996 until 2006, we're celebrating Ohio's Blue Decade…. Whoooo Hoooo!
The last time any Ohio blogger covered the ODP's State Party Dinner it was because some Kenyan guy named Iraqi Hussein Nobama from Illinois bought a table for bloggers in the hopes we'd help him handle some "URGENT BUSINESS MATTER" about some unknown wealthy diamond miner who died with no heirs that he was handling or to talk to us about running for President of Kenya or something.  We don't really remember because we were waiting to hear from the next former Attorney General Marc Dann.
This year is different, as we're coming together to hold a wake for the Ohio Democratic Party because of all the enthusiasm Republicans have as evidenced by the fact that Fernsy only sold three times as many tickets to get Democrats to show up to a boring convention center versus "coolest party dad ever" Kevin DeWine who booked his state party dinner in 2009 at a kickass water park resort (seriously.)
Of course, the ORP dinner last year turned out quite lame because nerdy Mike DeWine showed up even though everyone had told him the party was in Toledo instead and Kevy DeWine had to admit that his mom totally made him tell Mikey where it was cause they're related somehow.  And then everyone realized that they forgot to bring towels so they had to dry themselves off with Kasich's uncashed Lehman Brothers bonus checks and Portman's lobbyists cash.
However, this year sucked even harder for Republicans as their guest speaker was human Oompa Loompa John Boehner, whom, apparently, not even Ohio Republicans want to see as their Speaker while they're trying to eat.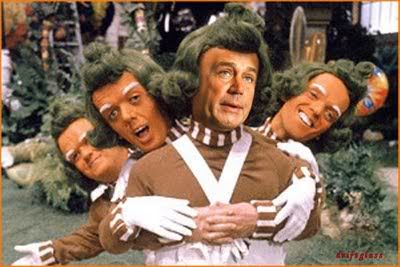 Boehner wound up singing a morality song about what happens to Republicans like John Kasich who don't vote the NRA's way as he pranced off stage carting Kasich in tow.
Just in case, we're going to avoid drinking from the punch bowl.  Not because it might be spiked (Shhhhhh!  We swiped a flask from our PlunderDad), but just in case Redfern goes all Jim Jones on us after the three Rasmussen polls that are scheduled to come out between now and tomorrow night.
We're still hoping to rent the Brunner Express as a party bus, but it's looking like we're going to have to spend this afternoon waxing the PowerWagon instead.
If you haven't already, be sure to subscribe to our Twitter feed as I'm told I cannot go to ODP prom without Tweeting about it because…. well, I dunno.  Do you really want to know how good the chicken is?
And if you haven't already done so, buy your ticket and stop by and see me.
Let's see, according to my ticket, we're sitting at the table marked "Service Entrance."  Awesome!
(In all seriousness, thanks to ODP for letting us come.  We hope our ticket is still there after you read this post?)