John Boehner helps celebrate June GOP gaffe appreciation month
Lamenting that reforming Wall Street in the midst of the Lehman Brothers recession as using a nuclear weapon on an ant is as politically tone deaf and stupid as…. oh, I dunno…..
having the shadow chairman of the House Energy Committee, the face of the GOP on federal energy matters, apologizing to an oil company for being forced to set aside money to pay to victims of the biggest environmental disaster in our nation's history (and perhaps the world?)….
or acting indifferent to whether LeBron stays in Cleveland while running for Ohio Governor?
Not to be left out, House Minority Leader got his contribution to June GOP gaffe month in and I think he even made the gaffe prone John Kasich envious.
In accordance with this month-long holiday tradition, the DNC has issued this GOP gaffe month holiday special (also known as a "campaign ad.")
Even that President dude who built a time machine just to make a snuff film out of Adam Smith marked the festivities:
"[John Boehner] can't be that out of touch."
In other news, President Obama has apparently never met the Oompa Loompa called John Boehner.  (HT: Driftglass who has an Oompa Loompa morality parody about Boehner)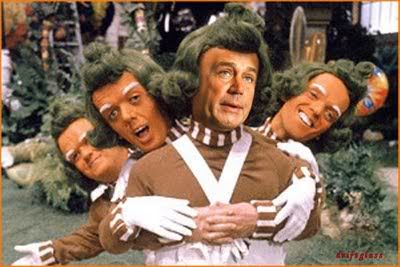 Of course, John Boehner is that out of touch.  He's the guy that thought it was a swell to hand out tobacco PAC checks on the House floor while the Congress was in session in view of the media.
Look at his voting record!
I hope that this months of GOP gaffes really don't end this month.  It's been too entertaining.  Let's make every month GOP Gaffe Appreciation Month!